A pair of gloves add a layer of protection to keep your hands safe while spearfishing. They also allow you to grip and control your weapon efficiently underwater.
However, the market is filled with all types of products, making it difficult to choose the best spearfishing gloves. Additionally, you need to take into account multiple factors while choosing spearfishing gloves, which can be very time-consuming.
That's why we have come up with this guide containing the best spearfishing gloves. It'll help you choose the best product depending on your unique needs.


Best Spearfishing Gloves List
Read the following products carefully to choose the spearfishing gloves that suit you the best.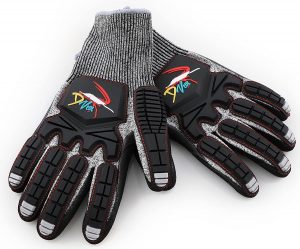 If you're looking for spearfishing gloves that check all boxes, you can go with the D Vein Lobster Gloves for diving. It's a premium quality pair of gloves that come with cut-proof Kevlar fiber construction and heavy-duty rubber protection.
These diving gloves also feature non-slip palm and finger grips to ensure better spearfishing performance underwater.
Another great feature of these gloves is that they're washing machine safe and dry pretty quickly. The customer service of the company is also great and you can contact them any time you want.
Pros
Ensure all-around protection
Made of cut-proof Kevlar fiber
Easy to wear
Machine washable and dry quickly
Cons
The front is not as strong as the back
2. Best Spearfishing Gloves for Cold Water: XUKER Water Gloves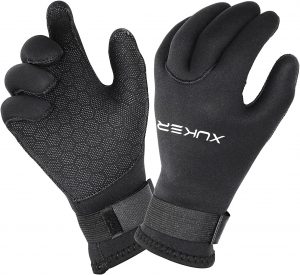 If you usually dive in cold water and need a highly insulated pair of gloves, consider going with the XUKER Water Gloves. These neoprene gloves are extremely flexible and come with glued blind stitching.
The neoprene layer of the diving gloves is covered with soft elastic fabric that keeps your hands warm while spearfishing in cold water.
The XUKER Water Gloves also feature adjustable wrist closure, thanks to the high-quality Velcro straps. It ensures minimal water entry, allowing you to move your hands freely while handling your weapon underwater.
This pair of spearfishing gloves are available in multiple sizes and you can choose the ones that suit you the best.
Pros
Keep your hands warm
Come with adjustable wrist closure
Offer great palm grip
Feature ergonomic design
Cons
Stitching feels a bit uncomfortable
The Cressi Neoprene are high-strength gloves, made of high-stretch and single-lined soft neoprene. They're extremely easy to wear, thanks to their inner "Metallite" layer. Plus, the outer layer is made of a non-slip material that ensures proper grip.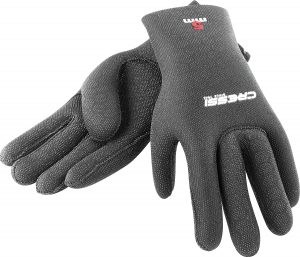 The overall design of the Cressi Neoprene gloves is also impressive, which is made to suit your hand's natural curves. These highly-stretchy gloves are available in a thickness of 5mm, 3.5mm, and 2.5mm.
Pros
Extremely easy to wear
Strong non-slip outer layer
Durable diving gloves
Cons
Material thickness on the palms could be better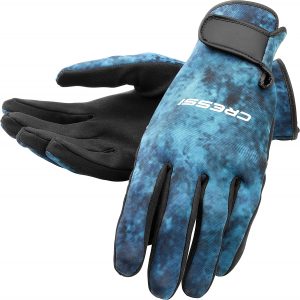 Cressi Camouflage Spearfishing are heavy-duty gloves that come with a unique pattern that blends with the water. It's an excellent pair of gloves for beginners, made of premium quality neoprene. The fabric of the gloves ensures comfort and offers high elasticity, allowing you to move your fingers easily.
The thickness of the materials is just 2mm for better grip but it's thick enough to keep your hands warm. If you need spearfishing gloves to dive in medium cold water, this product can be your best option.
The palm surface of the Cressi Camouflage spearfishing gloves is made of Scratch Resistant textile and an anti-slip coating. Plus, it's also easily adjustable, thanks to its large Velcro straps.
Pros
Blends with the water easily
Durable and comfortable
Best for medium cold water
Easy to put on
Cons
Stitching could be better
The Seavenger Abyss is the most flexible pair of diving gloves on this list. It's a great budget-friendly option that ensures mobility and warmth underwater. It comes with a reinforced palm and thumb design for enhanced durability and you can use them in all underwater conditions.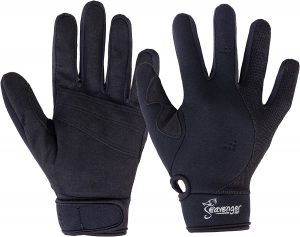 Just like most spearfishing gloves, the Seavenger Abyss also features adjustable wrist straps. They're available in seven different sizes and five different colors and you can choose the one that suits your needs and preferences.
Pros
Come with a cheap price tag
Offer thermal protection
Feature durable design
Cons
Not thick enough for sharp reefs
If you're on a very tight budget and need a cheap pair of diving gloves, you can't go wrong with the Holiberty Non-Slip gloves. They're made of high-quality neoprene to offer a comfortable, soft, and flexible fit.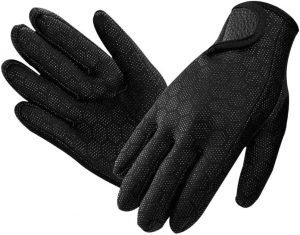 They're thermal diving gloves that keep your hands warm in cold water. The outer layer of the gloves is also very sturdy and durable which protects your hands from sharp rocks and reefs. Additionally, the anti-slip design helps you control your weapon easily with an enhanced grip.
Pros
Stretchy and anti-slip gloves
Most affordable
Feature elastic straps
Keep the hands cozy and warm
Cons
Not the most durable option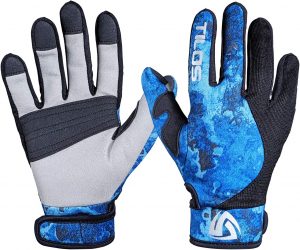 The TILOS Tropical-X Mesh gloves are made of 100 percent pure high-stretch Neoprene. It means you can use these gloves safely even if you have sensitive skin, as they're petroleum free.
What makes these gloves reliable and durable is their Amara palm construction. Not only do they ensure maximum grip but they also protect your hands from sharp objects.
The TILOS Tropical-X Mesh gloves also don't feel bulky because of their 1.5mm thickness. However, they're thick enough to keep your hands warm in cold waters.
Pros
100 percent pure neoprene construction
Super stretchy and comfortable
Reliable and durable gloves
Cons
Costlier than most diving gloves
If you want high-quality gloves for spearfishing that can withstand the test of time, consider going with the OMGear Neoprene Diving Gloves. They're made of 5mm thick neoprene with four-way laminated and stretchy nylon.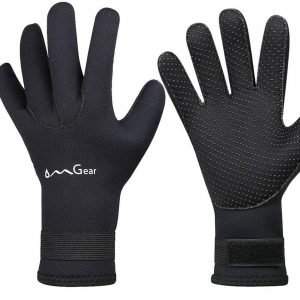 They're made to protect your hands from scratches, sharp reefs, and cold water while spearfishing. You can use the adjustable straps of the gloves to cover your wrists tightly. Not only do these straps prevent sand and other objects from coming in but they also ensure extra fit.
The gloves feature an anti-slip palm for better grip and they can also keep your hands warm in cold water.
Pros
Extremely durable
Come with anti-slip palms
Feature unisex design
Cons
Fingers could be a bit short for some users
The ZEMFAY Neoprene Gloves are made of 10 percent nylon and 90 percent neoprene rubber. They offer great thermal performance, making them suitable for cold water. The gloves also feature glued blind seams and an ergonomic design for a perfect fit and they're also durable and flexible.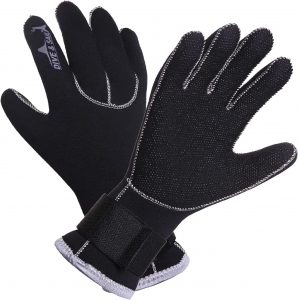 Just like most spearfishing gloves they also come with non-slip rubber printed palms so that you never lose your grip. The high-quality Velcro straps allow you to cover your wrists properly to prevent sand and other objects from entering your hands.
The ZEMFAY Neoprene Gloves are available in two different designs and four different sizes to fit your hands.
Pros
Feature three-layer structure
Suitable for cold water
Available in two different designs
Cons
Final Words
There you have it. These are some of the best diving gloves that you can buy for your next spearfishing adventures. We hope this guide will help you find the best products that suit your needs the best.
Make sure that you understand the pros of cons of each pair of gloves to make the most informed decision.